Khan Tengri Conference Hall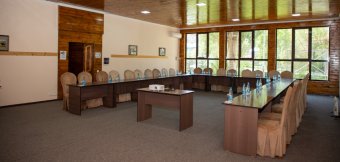 Khan Tengri Hotel invites you to hold a presentation, trainings, seminars or a business meeting in our conference halls, designed for up to 80 people.
The hall is equipped with everything necessary for business events: a projector, a flipchart, a screen, audio and video systems. The hall has high-speed Wi-Fi (UniFi), as well as the possibility of connecting cable Internet.
We will organize a great coffee break with fresh pastries and make an excellent menu for catering participants of the conference or seminar.
Additional discounts are provided when staying at the hotel for conference groups.
Capacity of participants:
with theater seating - 60-70 people;
with U-shaped seating - 35-45 people;
when seating, the school desk is 55-60 people.
Hall area - 106 sq.m .